Welcome and thank you for choosing to be an exhibitor at the Dyslexia Show 2022.
This exhibitor manual contains important information; it will guide you through your responsibilities and the deadlines and decisions necessary for your participation in the Dyslexia Show 2022.  Please ensure you read the entire manual and share it with your exhibition project team.
If you have exhibited at the NEC in the past, please note that some processes and procedures have changed since COVID-19 including:
NEC have introduced an Online Vehicle Booking Service for ALL Vehicles wishing to delivery during the Build Period
Updated Open Hours of the Show
Covid Status Verification and requirement for Covid Assessment – All Exhibitors must complete prior to the show
New Catering services available to stand holders
All catering venues onsite are now contactless payments only
Please get in contact if you have any questions, or need advice on your participation at the show, we are here to help.
We look forward to working with you towards a successful exhibition.
Yours sincerely,
The Operations Team
Build Period
| | | |
| --- | --- | --- |
| Thursday 24th March 2022 | 13:00 – 19:30 Hours | Shell Scheme & Space Only Exhibitors |
Please Note: Children Under 16 years of age will not be permitted on site during the Build & Breakdown period of the Show
Open Period
Exhibitors, Speakers & VIP Party to be held at Keynote Theatre
(Please ensure you wear your badges to gain access)
Breakdown Period
| | | |
| --- | --- | --- |
| | | Shell Scheme & Space Only Exhibitors |
Please Note: Children Under 16 years of age will not be permitted on site during the Build & Breakdown period of the Show
Exhibits are not to be dismantled prior to the show closing at 1600 hours, nor will contractors be permitted into the exhibition hall until all visitors have left the hall.
All contractors and exhibitors are reminded that they must design their stand to ensure it can be completed and dismantled within the published build and breakdown times.  Working outside of these times will not be permitted.
Address for deliveries:
Exhibitor Company Name, Contact Name & Contact telephone number
Stand number
Hall 8
Dyslexia Show
NEC
Birmingham B40 1NT'
!!! New for 2022!!, the NEC has now introduced a new free system for online booking system for all BUILD vehicles to help maximise the available unloading spaces for all exhibitors and contractors. The system is designed to encourage people to unload and then move their vehicles to free car parks, so that space adjacent to the halls is available for others to unload. This keeps the need to hold vehicles on the lorry parks to a minimum.
The online pre-booking page called Voyage Control can be found at www.voyagecontrol.com/necbirmingham by registering here you are able to pre-book your unloading ticket and print your own pass. The pass will then be "checked in" on arrival at the Lorry Park, and if space is available, the vehicle will be released to access the halls.
Once unloading is complete, there is no need to return to the lorry park. The vehicle will be automatically "checked out" of the inner area using the NEC's Automatic Number Plate Recognition (ANPR) cameras.
Vehicles can simply drive off site or drive to one of the outer car parks which has been allocated for contractor and exhibitor free parking. Should a driver find that they are unable to make their delivery within the specified time through no fault of their own, for example they get blocked in or there is an issue with the stand, they should inform NEC security staff within the hall, who in turn will contact the Traffic Supervisor.   This is system is only in place for the Build. 
Please be advised that the venue will not accept any deliveries made prior to the start of tenancy.  Deliveries will only be permitted on :
24 March 2022: 13:00 – 19:00 hours
25 March 2022: 08:00 – 09:00 hours
26 March 2022: 08:00 – 09:00 hours
No deliveries will be permitted during Show Open hours as the use of trolleys in the gangways is not permitted
Neither the Organisers nor the Venue can accept responsibility/sign for any items that require a signature.  You must ensure that there is someone available on your stand to receive such items.  The Unloading and placing of exhibits on stands are the exhibitor's own responsibility. Please note that many courier companies do not deliver on weekends.
Please complete the Stand Activity form  to inform us of any demonstrations you may be holding on your stand.
Exhibitors should not engage in any activity or employ any purpose or device that tends to create unreasonable congestion in the gangways. Demonstrations should be planned to take place in the centre of the stands to give room for an audience. Where a demonstration is causing unreasonable congestion in the gangway, which is either an emergency gangway, or is detrimental to the environment of surrounding exhibitors, the Organisers reserve the right to curtail the activities on the stand.
Any exhibitor wishing to operate machinery or carry out mechanical demonstrations on their stand must ensure that a Risk Assessment is carried out and that these practices constitute no fire or safety hazard, nor interfere with the activities of visitors and exhibitors.
All moving parts must be effectively guarded, and controls situated beyond public reach. The Organisers reserve the right to curtail any practice, which they consider dangerous or detrimental to the show.
All seating for the public should be strictly contained within your stand area and comply with the current local regulations.
Exhibitors must advise the Organisers if they intend to offer any massage, therapy or similar services on the stand, as special licences may be required from the Local Authority.
Exhibitors running films/video back projectors with commentary, or any form of presentation are reminded that sound must be kept to a reasonable low level. This level will be monitored within the exhibition area. If it is found that you are exceeding this the stand manager will be informed. If you receive three warnings and do not reduce the sound on your stand, The Dyslexia Show reserves the right to disconnect the power to your stand.
Failure to comply with this noise level may result in a fine, enforcement notice or injunction under the Environment Protection Act 1990 and the Control of Pollution Act 1974. All audio speakers must be facing inwards on the stand and not facing the gangways. 
Cooking on stands is not permitted without specific permission from the Organiser's and all relevant Health and Safety documents must be submitted. 
If, on request, you are unable to produce a Risk Assessment for the activities on the stand, all demonstrations must cease until a Risk Assessment has been completed to the satisfaction of the Organiser. In the case of dispute, the decision of the Organisers and its appointed representatives is always final.
Consumption of alcohol is strictly prohibited during build and breakdown periods. Any person considered to be under the influence of alcohol will be asked to leave the venue. The use of drugs is strictly prohibited throughout the duration of the event.  Any person suspected to be under the influence of drugs will be removed from site by NEC Security and will not be permitted back on to site.
Animals are not allowed in the exhibition halls for the duration of the tenancy except for registered assistance dogs. During the build-up and breakdown period no animals will be allowed on site if it is deemed unsafe. At all times the Organisers decision is final.
Portable cash dispensers (withdrawal fees apply) around the venue, while free NatWest and HSBC ATMS can be found at the Birmingham International Railway station.
To assist you with your AV requirements, Digital Age Events have been appointed as the official AV Contractors.
Contact av@dyslexiashow.co.uk for further information
All persons entering the exhibition hall during build-up, open period or breakdown must wear the correct passes:
Exhibitor Badges
You can order your exhibitor badges via Live Buzz email Exhibitor badges will be available to order closer to the show. For further information please contact exhibitors@livebuzz.co.uk.
Contractor Wristbands
Every contractor working on your stand requires a contractor's wristbands. These wristbands must always be worn onsite during the open period of the exhibition.  These will be provided on the day to contractors/exhibitors once they have read and confirmed they understand the site rules.
Police Checks 
Please be aware that our events are subjected to random checks by the local police to ensure that all persons working on site are eligible to be working. Also note that contractor badges will be subject to random checks and proof of identity will be required
Exhibitors using gas filled balloons on their stands must adequately secure them to their stand. Charges will be levied for any costs incurred for repairing damage to the air handling units within the halls.
Balloons must be positioned at a height no greater than 4m from the hall floor to the top of the balloon and hang only over your own stand. All helium gas cylinders must be removed from the halls once the balloons have been filled and the use of flammable gases is not permitted.  Balloons may not be inflated during the show open hours.
A plan must be submitted to the organisers detailing location, height and method of attachment.
The use of candles with open flames is strictly prohibited within the exhibition
Exhibitors may only conduct business and distribute literature from within the boundaries of their own stands. Under no circumstances may activities spill into gangways – this includes the use of promotional staff or characters. If you are approached on your standby unwelcome visitors trying to sell their products, please take a business card and inform the Organisers Office immediately so that appropriate action can be taken.
All exhibitors are advised that unless they have a contractual agreement with the event organisers, all promotional activity is restricted to the limits of their stand. For details of opportunities available in the halls, please contact the Dyslexia Show Director Arran Smtih exhibitions@dyslexiashow.co.uk 
All floor coverings for Shell scheme stands and show gangways will be provided by the Dyslexia Show. All Space only stands must ensure that their floors are covered. Additional coverings should be procured from Europa International (see forms).
These can be collected from the entrance of the exhibition from 25 March 2022.
Please can you update your profile by the 31st January 2022 please see your Live Buzz email.
Each stand will be provided with 2 Exhibitor Car Parking passes which will allow exhibitors to park on the venue car parks free of charge.  These can be collected from the organiser office from 1300 hours on 24th March 2022.  These passes must always be displayed in the car windscreen.
Amadeus are the multi award winning catering partners at the NEC. Their services must be used to supply all food and beverage (including alcohol) required on exhibition stands.  Amadeus provide exhibitor catering via the following means:
On-Stand Hospitality – unique hospitality packages
Enquiries can be made via our website and your dedicated key account manager will work with you to create an offer exclusive to your needs.  Please submit your enquiry here
Food To You – a convenient drop off service for delivery only
Exhibitors wishing to use the Food To You stand delivery service should place their order by completing the catering section on the downloadable order form available here  or by email to: eventorders@thenec.co.uk. Should you wish to speak to someone in person, please call 0844 338 8338 (UK based exhibitors) or +44 (0) 121 767 2770 (overseas exhibitors).
Local Authority regulations prohibit the presence of children under 16 in the halls during build up and breakdown.  Children will be refused access during these tenancy periods, under all circumstances and there will be no alternative facilities provided.  There are no creche facilities at this event.
The Venue will provide a limited cleaning service during the build.  Please be advised that excess waste materials should not be abandoned on site or deposited into the waste disposal containers and skips without their prior agreement there may be a charge for this service.  Please dispose of any liquids to avoid spillage and damage to the carpets. 
Each night your stand will be vacuumed.  Please leave waste bag of materials in the gangway for overnight collection.  Exhibits will not be cleaned.  If you wish to have this service, please contact The NEC Cleaning Manager on +44 (0)121 767 2765 for a quote.   If you are using a night sheet to secure your stand overnight, please provide a spare key to the Organisers office to ensure cleaning can be carried out overnight. 
During the Breakdown, please note that any waste left will be charged to the exhibitor, this includes packing cases, brochures and other sales materials
Will be available during the open period of the show, 30 mins prior to open time and 30 mins after closing.  Items are charged £1 per item.   Items may not be left overnight.  Any items left once cloakroom has closed will be logged with the NEC Security Lost Property Office.
Neither the organisers, the venue nor the sponsors accept any responsibility for damage or loss of any properties introduced by the exhibitors and/or their agents/contractors.  Exhibitors are especially warned that all exhibits are the sole responsibility of the exhibitor to whom they belong.  The strongest possible precautions against theft should always be taken.  All exhibitors should have adequate insurance against all risks.  Please see the insurance section of this manual for further information.
Drilling, fixing and screwing into the venue walling or flooring is not permitted under any circumstances.  The cost to make good any damage will be charged back to the relevant exhibitor.  Charges will also apply for paint spillage, abandoned carpet tape or any damage inflicted upon the venue. 
The NEC provides mobility equipment for hire.  Pre booking is advised as essential. Please email InfoEmailAccount@necgroup.co.uk for further information on range of equipment, availability and daily hire rates.
Please follow the link www.thenec.co.uk/visitors/disabled-visitors/  to our website to find information on access and parking, toilets, hearing assistance, first aid facilities, mobility equipment hire and dedicated ticket lines
All shell scheme stands are provided with 2 x 50w Fascia Spotlight & 1 x 2amp Single Socket if providing their own lighting or running electrics goods from your stand, please ensure you order enough power.  Please be advised that electrics will be installed by end of play on 24th March.
If you require a temporary supply before this time or require additional electrical sockets, light fittings etc, please contact the Electrical Contractors, Europa International. For your ease, an order form is located in the Forms section of this manual.
Please pay careful attention to the Emergency Procedures that will be sent out in your pre-show information email. Please circulate to all stand staff.  Please note that ALL gangways must always be kept clear throughout build up and breakdown. All exhibitors and contractors on site are responsible for keeping these gangways clear. Please ensure your contractors are aware of the emergency procedures and gangways.
A copy of the venues emergency procedures is available in the Safety & Security Section of this Manual.
There are some services which the Organisers are bound within the terms of the tenancy to use. There are additional services for which the Organisers have appointed Official Contractors including: Electrical Mains, furniture, carpets etc
It is recommended that as far as possible, exhibitors should make use of the contractors named in the manual who will be available onsite. It is the responsibility of the exhibitor to ensure the competency of the contractor and his/her suitability for the work you are specifying in the exhibition.
All contractors and employers of labour operating within the exhibition site at any time shall comply with all statutory requirements applicable directly or indirectly to their activities.
NOTE: The Organisers reserve the right to stop work being carried out by any person where the work is, in the reasonable opinion of the Organisers, being carried out in breach of these regulations and the Organisers may require such person to stop work immediately and may direct such person to leave the exhibition.
If you plan to hold a drinks reception on your stand, please email exhibitor@dyslexiashow.co.uk with details including date, timings, drinks to be served and numbers involved.  Hospitality catering may be procured from the NEC or corkage rates will be applied by the NEC.
Please note that all exhibitors are expected to comply with the Equalities Act as far as is reasonably practicable.
The NEC Hall is protected by a sprinkler system and portable fire extinguishers.  On the night of build additional fire extinguishers will be distributed by the NEC Fire Officers discretion.  Under no circumstances may these be moved.
In the event of a fire emergency:
Break the glass on the nearest fire alarm point – they are located at each vehicle entry door, in the Organisers office and at key points within the hall and around the main atrium
Telephone the NEC Site Operations Centre on 0121 767 3333 (or ext. 3333 if using an internal phone) giving locating and nature of the incident
Calmly notify adjoining exhibitors of the situation and, if safe to do so, tackle the fire with the appropriate fire extinguishers.
Leave by the nearest exit
In a medical emergency, Call the NEC Site Operations Centre on 0121 767 2222 (or ext. 2222 if using an internal phone) giving exact location of the casualty, details of injuries including if they are conscious and if they are breathing.  The NEC Will arrange for all the necessary assistance.
Floral can only be hired from Europa International. All other will be removed.
There will be no off-loading of exhibits or stand fitting materials into the gangways under any circumstances.
Emergency gangways MUST always be kept clear to facilitate not only emergency services access/egress but also assist the cleaning company.  Gangways will be monitored by the Operations team.  Anything left in any gangway overnight will be deemed as rubbish by the cleaners and removed. Please ensure that your contractors are briefed on this matter.
Please be advised that LPG gas is not permitted at the Dyslexia Show
Appointed contractors will carry out all work in good time and you should not be asked for any sort of gratuity to obtain priority service.  If monies are solicited, please inform the Organisers immediately.
Please note that as an Exhibitor, you have an obligation to comply with Health and Safety legislation and guidance whilst exhibiting at the event.  Please ensure that you read and understand the dedicated Health and Safety Section of this manual.
The maximum build height limits it 3.9m including platforms. 
Any loss or damage that may occur during the show should immediately be notified to the Organisers and Security on-site. Please note that Exhibitor contracts do not cover stand contractors and any subsequent sub-contractors, and as such contractors are now required to submit proof that they have adequate insurance cover.
We recommend that contractors erecting complex structures should have a minimum of £5 million public Liability and must be able to provide proof of Employers Liability insurance. Contractors erecting standard structures should have a minimum of £2 million Public Liability and must be able to provide proof of Employer Liability insurance. For further information on what constitutes a complex structure, please read the stand fitting regulations in full.
All complex structure contractor's insurance certificates must be submitted with the stand plans to Organisers, for a full compliance notice to be issued.  Email operations@dyslexiashow.co.uk
All contractors and exhibitors are reminded that they must design their stand to ensure it can be completed and dismantled within the published build and breakdown times.
Should be handed into to the Organisers Office or to the nearest security officer.  All Lost property is logged and stored by the NEC Security department.
Please be advised that maintenance work will not be permitted on stands during the open hours of the show.  If you need to carry out maintenance work, please apply to the organisers office to book access the next morning prior to opening.
The stand must be staffed, and all exhibits must remain displayed during the hours the exhibition is open to visitors.  Publicity notices and materials may only be displayed on and distributed from the exhibitor's own stand.  Exhibitors may not break down stands before the official close of the show on the final day.
Exhibitors will not be permitted to play music on their stands.
Exhibitors will not be permitted to play music on their stands.There will be an official photographer and vidoes for the show – other photographers will only be allowed into the show with written consent of the Operations team. Please email operations@dyslexiashow.co.uk
These are provided by the Venue and must be booked in advance.  Please refer to the NEC Exhibitor Services form
The PA system is for use by the Organisers and the Venue only.  During the open period only official and emergency messages will be broadcast.
Rigging above stands is not permitted
Shell scheme exhibitors must complete a risk assessment which covers the activities taking place on their stand during the open period of the event. This should be sent to operations@dyslexiashow.co.uk  by 31st January 2022.
Space only exhibitors must submit a detailed construction phase plan, risk assessment and method statement to operations@dyslexiashow.co.uk by 31st January 2022.
Please see forms sections for templates.
The Organisers have arranged for 24-hour security guards to patrol the exhibition. However, exhibitors should remember that exhibition halls are vulnerable places and should take appropriate precautions against theft.
Any incidents of theft must be reported to the Organisers immediately as it will be necessary to complete a security form and report the incident to the police. Should you wish to book a guard for your stand please contact the NEC Customer Services team or refer to the Order form in the forms section.
Please note that most hired cabinets have common locks and should NOT be regarded as secure units.
Although every reasonable precaution is taken and official security teams are in place, the Organisers can accept no responsibility for any loss or damage which may occur to your staff or property from any cause.
Smoking is not allowed anywhere inside the venue estate aside from the NEC designated smoking areas.  This also applies to E-cigarettes and vaping.  The closest NEC designated smoking area is just off the Atrium 2 Main Entrance
All stands are required to complete the Stand Activities form. Please complete your Stand Activities form, even if you are only stating that you have none of the activities listed taking part on your stand. The form lists the key activities that the venue needs to give permission.  Please do not wait until you get on site to seek permission as many of the activities listed need at least 28 days to process the applications.
Please be advised that there is no storage on site – all packing materials, building materials, tools must be removed from site prior to open morning.
The NEC has partnered up with TOA Taxis.  These are black cabs. Taxi ranks are at Atrium Main Entrance 1 or 3. They can be booked calling 0121 427 8888 or 0800 0142 729. Only TOA taxis are allowed access to pick up and set down at the main entrances of the venue.
Other taxis and private hire vehicles can access designated short stay areas to set down and pick up pre-booked passengers only, which can be accessed via Gates 1 and 3. There is no parking permitted in these areas. 
During the Exhibition Build temporary power may be booked from Europa International at additional cost.
Stand electrics will not be energised until they have been fully checked and tested by the Official contractor and venue.
Motor vehicles used for delivery of materials or exhibits are not permitted to remain in the halls overnight.
Should you wish to display a vehicle on your stand please complete the stands activities form. All petrol-fuelled motor vehicles or other petrol engine equipment fitted with a fuel tank, including boats, plant or machinery, must comply with the following:
The fuel tanks of motor vehicles manufactured prior to 1984 must contain only sufficient fuel to move the vehicle in and out of the hall, due to the absence of safety features which prevent leakage.
Fuel tanks of motor vehicles manufactured from 1984 onwards may contain fuel.
Fuel tanks on all other petrol engine equipment must be empty.  
The fuel tank must be sealed, wherever possible with a lockable cap.
Vehicles may require a drip tray and must be positioned within the boundaries of the stand so that any protrusions, doors, tail lifts etc. do not infringe the stand perimeter.
The running of engines during the open period of an exhibition is strictly prohibited.
For vehicles required to operate as part of a moving demonstration, "pit" positions must be clearly defined and agreed with the venue.
Suitable fire extinguisher(s) must be provided.
Filling or emptying of fuel tanks inside the hall is always strictly prohibited
Whilst the NEC does offer a free WIFI Service, we recommend that you consider providing alternative services for your demonstration and PDQ services as when site is busy the service is not reliable.   For dedicated connections please contact the NEC Customer Services for a quote.
Exhibitor Queries
Please email exhibitor@dyslexiashow.co.uk
Telephone Number for Pre-Site Queries: 0330 0887985
Onsite phone number:  0121 667 7351  (only available from 24 March 2022)
| | | |
| --- | --- | --- |
| | | Email: av@dyslexiashow.co.uk |
| | Europa International | See Forms Section for Order Form |
| | Europa International | See Forms Section for Order Form |
| | Europa International | See Forms Section for Order Form |
| | Europa International | See Forms Section for Order Form |
| | | See Forms Section for Order Form |
| Venue Exhibitor Services such as Internet | NEC Venue Customer Services | |
| | | +44 (0)121 767 2765 for a quote |
| | | |
Method Statement Template
Construction Phase Plan Template
Orders, Documents and Compulsory Forms Deadlines
Compulsory forms with Deadlines for ALL stands:
| | | |
| --- | --- | --- |
| Task | Action | Deadline |
| Stand Profile | Refer to Live Buzz email | |
| Contractor Badges | | |
| Exhibitor Badges | Refer to Live Buzz email | 19 February 2022 |
| On Stand Activities Form | Click Here |  14 February 2022 |
Compulsory forms with Deadlines for Shell Scheme Stands:
| | | |
| --- | --- | --- |
| Task | Action | Deadline |
| Shell Scheme Extras | Complete Europa International forms for additional orders | |
| Shell Scheme Name Board | Complete the Exhibitor Health & Safety Declaration form with the name of the stand how you wish it to appear on your signage | |
| Risk Assessment Template | Complete and return (safety document templates available) | 31 January 2022 |
General Forms with Deadlines
Task
Action
Deadline

Complete Europa International forms for additional orders

Furniture

Complete Europa International forms for additional orders

Complete Europa International forms for additional orders

19 February 2022

Lifting & Freight

Please email o

perations@dyslexiashow.co.uk

19 February 2022

Complete NEC Exhibitor Services Order Form

19 February 2022
Shell Scheme Information
Please note all shell scheme panels are felt backed and grey in colour.  Velcro hooks must be used to affix graphics to the panels.  Please do not use screws, nails or staples. Velcro hooks tape is available for purchase from Europa International.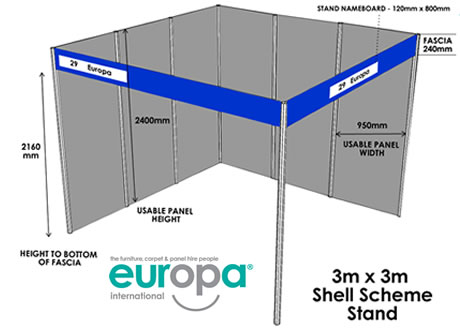 Space Only Information
Approvals Process for Space Only Stands
All Space Only exhibitors are responsible for designing and constructing their stand area.  The following should be submitted to  operations@dyslexiashow.co.uk  by the 31 January 2022 to gain permission to build:
Stand plans including elevation view with dimensions and construction materials details (please note that we will be checking these plans against the aesthetic rules of the event & the E-Guide, however, it is the contractor responsibility to ensure the stand can be built in time and is structurally viable.)
Risk Assessment
Method Statement must clearly identify the sequence of construction, e.g., construction of frame; insertion of legs; fixing of bracing. A clear plan for dismantling the stand must be identified.    The time available for construction and dismantling of the stand must be taken into consideration.  A safe system of work must be identified within the methods for construction and dismantling, i.e., work equipment; temporary handrails; fall-arrest system
Construction Phase plan
Public liability insurance certs
Please note that there are Risk Assessment, Method Statement & Construction Phase Plan templates in the Forms section.
Show Stand Aesthetic Rules
There is a maximum build height of 3.9 metres including the floor platform
Exhibitors must not impose upon neighbouring stands
Any walling should be fully finished on any visible surfaces.
No display or features should be built, displayed or distributed from outside the footprint of your stand
Any walling facing neighbouring stands should be fully finished and plans for this submitted as part of stand plans
Health and Safety
Stand designers have a legal duty to ensure that the stands are designed to be fit for the purpose intended, structurally sound and safe to build, use and demount without any undue risks.  Please see the Health & Safety section of this technical manual for further information
Logistics
Please consider how you are intending to get your stand building materials, exhibits etc to your stand in a safe way.  This should be considered as part of the risk assessment and method statement process. Should you have a requirement for a forklift truck, this must be discussed and booked in advance with the Operations team.  There will be no last minute on the day service available.
Site Survey
It is each exhibitor's responsibility to examine their allocated site in order to avoid adjustments to stand structures or displays, as variations in the floor level or obstructions cannot always be indicated on the floor plan. In your own interest, you should also satisfy yourself as to the condition of your site both before erection and after clearance.
Construction Materials
All materials used in the construction of stands, features and displays, including signs and facias, must meet eGuide regulations – see e-guide here
British Standards are the minimum acceptable standards for construction materials. Suitable samples of materials may be submitted to the venue for approval. Materials may be tested on site to ensure that they comply.
Design
It is the responsibility of the Exhibitor and their appointed Contractor to examine the site allotted pre-show in order to avoid costly adjustments to stand structures caused by any building obstructions. The Organisers cannot accept any responsibility for this.
All stand structures must be completely self-supporting and stable. Direct suspension may not be made from the roof of the exhibition nor may any fixing be made to the structure of the building. Nothing may be drilled, attached or bolted to the hall floor.
Exhibitors and stand designers are reminded of their obligations under The Equality Act and must design their stands with accessibility in mind. More guidance on achieving this, is available in the ESSA Accessible Stand Guide – http://www.essa.uk.com/
All stands must comply with the requirements of the current Equality Act. For more information please see: http://www.legislation.gov.uk/ukpga/2010/15/contents
The Organisers may, at the expense of the exhibitor, remove or alter anything in, on or forming part of any stand if, in their opinion, it is desirable to do so in the interest of the exhibition.
Event Safety and Security
Current legislation, best industry practices and our own health and safety standards. This section of the manual has been produced to provide exhibitors with clear, simple suggestions for understanding and implementing a suitable and sufficient safety management programme to comply with these Health & Safety procedures. If you do not read this section in detail you may compromise your event experience.
We strongly recommend that you take competent advice to help you plan the best way to manage your on-site Health & Safety in conjunction with your stand planning. This support should help you to identify and manage the health and safety risks posed by the activities you undertake to build, operate and break down your stand in accordance with health and safety legislation.
Exhibitors and contractors are also advised that stands must be designed and built in accordance with rules and regulations, alongside any venue specific regulations and the terms & conditions stated on your contract to exhibit.
We have templates available to help you, simply refer to the forms section and look for Exhibitor or Contractor Risk Assessment template. Please note that these examples are not a definitive guide to how this should be done and should be used only as a starting point. For further assistance please contact your own company's health and safety advisor.
The Construction (Design and Management) Regulations 2015 (CDM) came into force on 6th April 2015, the regulations are available to provide a framework to help you meet requirements and understand your obligations. Further information can be found on the CDM4events website via the following link: https://www.cdm4events.org.uk/
This law applies to any exhibitor carrying out construction on their stand. (Stand dressing, posters, display cases and furniture etc are not classed as construction).
If you intend to carry out construction you, or your employed contractor, will need to take overall responsibility for CDM as part of your Health & Safety preparations and make sure all the required roles are fulfilled. Guidelines can be found on the CDM4events website.
We at Dyslexia Show, expect exhibitors and contractors to effectively plan, manage and monitor all construction works that fall within their site so that works are carried out in a way that controls all risks to Health and Safety and welfare requirements.  The effort devoted to planning, managing and monitoring should be proportionate to the size and complexity of the project and the nature of risks involved.  This will be structured in the risk assessment and method statement as well as a Construction phase & dismantling plan which should also run alongside these documents.
Contractors and Exhibitors should monitor their work to ensure that Health and Safety precautions are appropriate, remain in place and are followed in practice. Contractors will be monitored on site by the Operations team and Show Safety Manager to ensure compliance.
Under CDM Health & Safety Regulations exhibitors and contractors must adhere to the following practices:
Construction Phase & Dismantling Plan
A Construction Phase & Dismantling Plan is like a risk assessment and must cover build, open and breakdown but should include the following additions:
Who are the duty holders? (particularly Principle Contractor and Designer)What training/experience do they have?
What do they need?
How will they be monitoring progress & safety?
How will site rules, changes of information, Construction Phase Plan, Method Statement, Risk
Assessment, and Accidents & Incidents be communicated?
What consultation process is in place with your contractors?
Who is responsible for what?
What are the site rules?
What are your Welfare Arrangements?
What are the main dangers in your construction process and what controls are in place?
Under control of hazardous substances legislation (COSHH), the use of all hazardous substances is prohibited without conducting a Risk Assessment and obtaining written approval from the organiser.
Applications should be accompanied by the COSHH Assessment which should include:
Identification of substances being used
Who may be affected by exposure to the substances (including others working and/or visiting the area)?
How they may be affected by the exposure
What precautions will be taken to protect those at risk of harm (including people working on adjacent stands or in proximity)
COSHH assessments should be submitted to the Operations team at least one month prior to the exhibition. This is subject to approval by the Operations Team and Venue Management.
Shell Scheme Exhibitors
All exhibitors must complete a Risk Assessment (RA) for the exhibition, which covers the activities taking place on the stand during the build, open, and breakdown periods. 
Please complete your Stand Activities form, even if you are only stating that you have none of the activities listed taking part on your stand. The form lists the key activities that the venue needs to give permission.  Please do not wait until you get on site to seek permission as many of the activities listed need at least 28 days to process the applications.
The CDM regulations will only apply to you if you intend to carry out any construction within your shell scheme stand, i.e. building within the walls of your Shell Scheme, stand dressing with posters, display cases and furniture etc are not classed as construction.
Space Only Exhibitors
If you have a Space Only stand, the Company building the stand, either you or your employed contractor, is responsible for ensuring all planning, design and pre-construction, is carried out in compliance with the law and that all required roles are fulfilled under CDM. 
A Construction Phase & Dismantling Plan must be submitted alongside a detailed Risk Assessment, Fire Risk Assessment and Method Statement, with your stand drawings for approval to operations@dyslexiashow.co.uk
Have you submitted your stand design (space only) which meets our stand build safety criteria?
Have you completed a suitable and sufficient health and safety risk assessment to cover all the activities you are undertaking at this event (including build up, Open and breakdown periods)?
Have your appointed contractors (and any subcontractors) completed their own health and safety risk assessments?
Have you shared details of the risks and controls identified in the relevant risk assessments with all your event staff and contractors?
Have you planned your time during build up and breakdown to allow safe working practices to be used?
Have you or your employed contractor familiarised yourself with CDM?
Have you or your employed contractor completed a Construction Phase & Dismantling Plan?
Have you read and circulated the Site Safety Information & Emergency Procedures related to this event contained within the forms section of the manual?
First aid care can be found by contacting the Organisers and by asking your nearest security guard.
In a medical emergency, Call the NEC Site Operations Centre on 0121 767 2222 (or ext. 2222 if using an internal phone) giving exact location of the casualty, details of injuries including if they are conscious and if they are breathing.  The NEC Will arrange for all the necessary assistance.
All Dyslexia Show contractors/Exhibitors must always wear PPE during the build-up and breakdown periods, in the outside loading bays and inside the exhibition hall. 
For Dyslexia Show, mandatory PPE requirements include, but are not limited to, high visibility vests, and sturdy boots. It is strongly recommended that safety boots/shoes be worn.  Flips flops, trainers, dress shoes etc will not be permitted.
Other PPE may be required depending on the nature of the construction taking place these can include, safety goggles, ear defenders, gloves and RPE (Respiratory Protective Equipment) – these requirements should be identified in your risk assessments.
packages, cases or bags have been deposited. If suspicions arise, do not touch the item but contact the Organiser's Office or a nearby security guard immediately.
In the event of evacuation (only if it is safe to do so), and when leaving your stand each night, please ensure that:
a) appliances are switched off
b) you check your stand for potentially dangerous items.
All work at height must be included in your risk assessment and method statement. Contractors and exhibitors should avoid working at height where they can, and, if they cannot avoid working at height, suitable work equipment must be in place to prevent falls. If there is a risk of a fall, measures must also be put in place to minimize the distance of the fall and the consequences of the fall.
The use of furniture in working at height is not permitted.  Plan your works – if you need a ladder to remove items from your stand, build it into your plan do not use chairs or boxes as your access equipment.
During the Build and Breakdown please go to N12 Lorry Park.  There will be electric signs that will say Dyslexia Show to direct you.
Please follow the guidance and direction of the onsite Venue Traffic Officers.  Any person found to be abusing the staff will be asked to leave the site. You will be allotted a certain amount of delivery time on a first come first serve basis. Please respect you time slots and your fellow exhibitors. 
When you arrive at the hall, please be aware of the yellow and red hatch markings in front of the vehicle entry delivery doors.  These should be kept clear for emergency vehicle access.  Follow the direction of the traffic and security officers
Please ensure before you get out of your vehicle that you are wearing your PPE I.e. Hi Vis Vest and Sturdy boots. 
Be aware of your surroundings. There will be many vehicles operating during the build-up and breakdown of the event thus exhibitors and contractors will need to be very aware of the site surroundings and take all reasonable precautions to minimise potential risk to themselves and others around them.
Contractors and exhibitors should never walk behind reversing vehicles or a vehicle with a raised load.
When moving your vehicle ensure that you have enough banksmen to ensure vehicle moves safely and persons should only direct site vehicles if competent to do so. 
All vehicles entering the exhibition hall, must not exceed walking speed. All those operating vehicles must be trained and licensed to do so.
The use of mobile phones whilst operating your vehicles is strictly prohibited. 
Please do not attempt to move any barriers.  Any persons found tampering with the traffic management barriers will be asked to leave site.
Venue Emergency Procedures
Covid Information and Guidance
Covid-19 Transmission – Exhibitor Duties & Responsibilities
The Dyslexia Show is committed to providing a safe and secure environment for all of our customers and partners. We fully comply with government guidance on managing the risk of COVID-19 and have put additional measures in place that we are encouraging all of our exhibitors, visitors, contractors, partners, and staff to follow to keep everyone's experience safe.
In this section we will be setting out what measures we are taking at The Dyslexia Show and will set out advice for exhibitors and their contractors regarding planning, building, and operating their stand at the show. Our measures are aligned with the UK's event industry guidance "The All-Secure Standard" and the NEC's "Venue Protect" guidance and will be adapted as necessary to ensure they reflect the latest government guidelines. At all times a risk assessed approach is being taken when considering the safety of everyone on-site at the event.
Pre-Event Registration / Advance Ticket Purchase
Only registered exhibitor and contractor pass holders and pre-registered visitor tickets holders are allowed entrance to the show so that we are able to communicate the event mitigation measures with them in advance, allowing everyone on-site to understand and comply with these measures.
Contact Tracing
The NHS QR code is displayed at the entrance to the venue and at the entrance to the show, allowing visitors and exhibitors to use this facility upon arrival.
Controlled Access
Visitor access will be monitored by a team of experienced security marshals and physical barriers and signage will further assist in access control. Everyone is also requested to wear a mask when entering the show.
Entry Restrictions
Everyone is requested to take personal accountability for their health and those around them and not attend the show if they are:
Displaying symptoms of COVID-19 (a high temperature, a new and persistent cough, or a loss of/change in sense of taste or smell) – even if these symptoms are mild.
Have been asked to self-isolate.
Live with an individual who has COVID-19 symptoms.
Show Measures: In Show Safety
Face Coverings Face coverings are no longer required by law, but the government expects and recommends that people should continue to wear them in crowded and enclosed settings. Therefore, we request everyone to wear a mask (unless they have health reasons not to do so):
When entering and exiting the show
In all show theatres – when entering, exiting and whilst seated
In all public areas of the NEC
On NEC shuttle buses
In show gangways during busy times
Social Distancing
Social distancing is no longer a requirement. However, some areas of the show are busy and therefore:
Wider gangways have been introduced in key areas
Show entry controls are in place as outlined above
Masks are to be worn in busier areas
Theatre seat rows have wider distances between rows
Show staff will continuously monitor the popular areas of the show and may ask people to move away to other less busy areas.
Cleaning & Hygiene
Thorough cleaning regimes are in place within the show and across the NEC, including:
Frequent cleaning of all communal areas
Overnight deep cleans of all public areas
Frequent cleaning of show theatre seating
Toilets are continuously monitored, and enhanced cleaning regimes of all rest areas are in place
Bins are widely available across the NEC and show and will be emptied regularly.
Stands are cleaned every evening
Hand sanitisers are installed throughout the show and venue including at the entry to all toilets, in all catering pods, in NEC public areas, in the show entry points, at VE Doors, on islands around the show, in show theatres, at the show information point and in show staff office suites. Exhibitors have been requested to ensure sanitiser is readily available on their stands.
Contactless options are widely available and recommended, including:
Cashless options are available for all food and drink payment
Food can be pre-ordered via the NEC
Visitor tickets and badges are mailed out in advance and where on-site collection is necessary, this will be managed by staff wearing appropriate PPE.
Parking can be pre-paid online
Where touch-free experiences are not possible, sanitiser will be available, and products and materials will be wiped down when appropriate.
Ventilation
In line with government guidelines, the NEC provides the optimum amount of fresh air to all spaces to minimise the risk of COVID-19 transmission. Mechanical ventilation equipment has recently been fully recommissioned and filtration systems have been upgraded to ensure clean and safe air is circulated throughout the venue.
Management of Suspected or Confirmed Cases
If anyone presents COVID-19 symptoms they should immediately leave the event, take a supervised lateral flow test and if the result is positive, self-isolate and take a PCR test. If the PCR returns a negative result, they may return to the event showing proof of the negative result. Close contacts who have not been fully vaccinated will also be required to leave the show until that person returns a negative result.
Further Advice & Information for Exhibitors
Full government guidance, "Working Safely during coronavirus (COVID-19): guidance from Step 4" can be viewed here. (https://www.gov.uk/guidance/working-safely-during-covid-19/events-and-attractions#eventplanning)
COVID-19 Risk Assessment
The underlying principle is that a risk assessed approach needs to be taken by each exhibitor to consider what risks there may be and what mitigation measures can be introduced. Risk assessment underpins all planning arrangements and assessments should consider each phase of the event – the build-up, the open period, and the breakdown. This year we are asking every exhibitor to carry out a specific COVID-19 risk assessment, covering both their stand design and build as well as their open period activities. The aim is to put in additional control measures to limit potential exposure to COVID-19 with respect to everyone working on your stand, everyone visiting your stand, and everyone with whom you have contact with at the show.
There is already a useful risk assessment template on this which has been produced by the HSE and can be found on the following link – www.hse.gov.uk/coronavirus/assets/docs/risk-assessment.pdf. Once completed you will need to submit this risk assessment so that we can check this in line with all of the measures we, as organisers, are putting into place. These should be sent to Operations@Dyslexiashow.com
Points for Exhibitors Consideration
People Displaying COVID-19 Symptoms
Ensure that all your staff are familiar with these protocols for people displaying systems:
If any of your team present COVID-19 symptoms they should leave the event immediately, take a supervised lateral flow test and if the result is positive, self-isolate and take a PCR test. If the PCR returns a negative result, they may return to the event – showing evidence of the negative test.
The Organisers Office must immediately be informed of any person testing positive.
All areas of your stand where the person worked should be thoroughly cleaned.
Close contacts of the person testing positive will not be required to self-isolate if they are fully vaccinated (double jabbed, plus two weeks).
Close contacts of the person presenting symptoms who are not fully vaccinated will be required to self-isolate until either the person returns a negative result or if the person returns a positive result until they themselves have had a PCR test and returned a negative result.
Cleaning & Hygiene Countermeasures
Take your own steps to reduce the risk of transmission on your stand by putting in place cleaning & hygiene protocols. Consider:
Wipe down products, furniture, surfaces, and other high use touchpoints after public contact.
Clean seating after each use – including between talk sessions.
Put out adequate bins – for used wipes, cleaning products and general use – and ensure they are emptied regularly.
Install hard surface, wipeable furniture.
Undertake / book from the NEC a daily deep clean of your stand each evening. Your stand gets a vacuum each evening, but the NEC are now offering an enhanced cleaning option – it can be booked via the NEC Products and Services Order Form.
Put out hand sanitiser on your stand – particularly in high traffic or higher risk areas such as reception areas and product demo areas. Ensure that the sanitisers are checked regularly and re-filled when necessary.
Encourage staff and visitors to wash their hands / use hand sanitiser regularly.
Face Coverings & PPE
Face coverings are no longer required by law, but the government expects and recommends that people should continue to wear them in crowded and enclosed settings. Therefore:
Allow your staff to wear them at any time they wish.
Encourage visitors to wear them (for example through signage) when visiting any enclosed areas of your stand and also in more crowded spaces / close contact spaces on your stand – such as presentation areas and product demonstration bars.
Consider through your risk assessment whether your stand staff need personal protective equipment (PPE). For example, if your stand activities involve close contact activities (such as product handling) you may decide that stand staff and customers should wear face masks and gloves.
However please remember that some people are not able to wear face coverings and the reasons for this may not be visible to others.
Social Distancing
Social distancing is no longer a requirement. However, if any areas of your stand are likely to be busy areas, consider what protocols you can put in place to prevent overcrowding and bottlenecks. Consider:
Avoiding enclosed spaces on your stand.
Using barriers to control access.
Using floor markings.
One-way systems around popular areas / features of your stand.
The compulsory use of masks in more crowded spaces.
Decide on how many people your stand can comfortably accommodate, use signage to display that message and request visitors come back later if there isn't space on your stand at that time
How you will react to any unexpected pinch points on your stand.
Communication & Training
All exhibitors should communicate and train their stand staff with respect to their COVID-19 protocols. You should keep all your stand staff, contractors, and visitors up to date on how you are implementing your safety measures. Therefore,
consider:
Pre-event briefings for stand staff – ensure everyone is briefed with your COVID-19 protocols, the venue emergency procedures and the Site Rules. Ensure they know what is expected of them on-site and that they are briefed to handle any questions from the public with respect to your COVID-19 protocols.
Signage on your stand displaying key messaging to visitors
Stand Design:
Maximise ventilation on your stand by avoid enclosed areas, theatres and meeting rooms and removing ceilings from any required enclosed spaces.
Simplify the build to limit the number of contractors required on-site and the time they need to build your stand.
Maximise space on your stand where possible to prevent it becoming overcrowded.
Use modular elements where possible.
Consider what materials and furniture is being used – can it be wiped down easily?
Stand Construction:
Encourage your contractors to think about scheduling and efficiency – e.g. limit the need for them to keep returning to their vehicles for equipment, additional unloads etc.
Can contractors work side by side or back-to-back rather than face to face where possible?
Contactless Visitor Stand Experiences:
Contactless data capture – avoid collection business cards etc.
Provide digital info rather than brochures.
Pre-book appointments / product tests when suitable.
Limit stand hospitality.
Limit and control the distribution of stand give-aways – consider gloves etc.
Introduce contactless payment.
Catering & Hospitality:
Provide catering for all stand staff – limit their time away at busy outlets.
Use disposable cups, plates, cutlery etc.
Stand Staff:
Consider daily lateral flow tests or temperature checks for all on-site staff – and log.
Issue relevant PPE – masks, gloves for product demos etc.
Book hotels with good hygiene regimes
Consider how staff will travel to the events safely